Digital Printed Vinyl Backed Glass Splashbacks
If you haven't seen one of our customised digital printed splashbacks, your missing out. If you looking to completely personalise your glass splashback and only be limited by your imagination then this is definitely for you. From photographic outlooks to designed swirls and colour, sepia-tone and black and white old photos. Anything is possible. Whilst digital printed glass splashbacks are not new to us at Harbour Glass, we have definitely seen an increase in this application with now more creativity then ever but with the same easy to clean, "no grout" worries gloss finish you can add almost anything to top off the feature of your kitchen, bathroom or laundry.
HOW DOES IT WORK?
We utilise a skilled local printer to print on specific vinyl that is then adhered to the back of your glass splashback instead of it being back with colour, this means that provided you have all the requirements (See below) you can basically have any design, photograph or pattern you wish.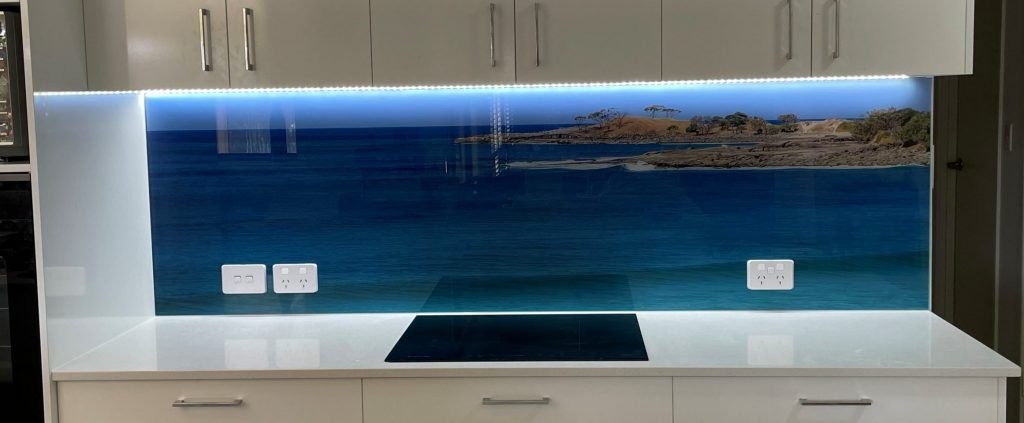 The normal practice of selecting an image or graphic for your splashback is that you take a look at some stock sites to establish a clear idea of what you want.
"What is stock?"
Stock imagery or stock photography websites are essentially web platforms that manage and distribute professional imagery and is the best source of very high quality images. When having a digital print made for your splashback the images are sometimes enlarged. If the image does not have a high enough resolution the print will look very pixelated and of poor quality. This why we do not recommend utilising any other sources unless you have a good understanding of either photography, graphic design or printing.
The stock websites recommended are;
Shutter Stock (shutterstock.com)
You are not limited to these stock sites only, there are many out there but some are more expensive than others and all the little additional costs will add up, the main thing to remember is that the highest possible resolution is required by our printers and that a screenshot on your mobile phone of something on Pinterest simply won't work.
We often get asked the following questions:
"Can I design my own?"
Yes, if you have a background in photography with a good understanding of the points raised above and high quality images, you can design your own. Similarly if you have a background as a graphic artist.
"Can you design my image and layout for me?"
Yes, but please keep in mind, there is an hourly charge on design services which may run in to many hours worth of work. This option is not recommended for the budget conscience.
"I found something I like but the resolution is not high enough, can you remake/redesign it?"
Our preferred digital printers are also very skilled graphic designers but as such will only make an assurance of reproducing an image that is similar in appearance, there are many reasons for this, it may be because there could be copyright issues or because of the layout of the splashback and the cost associated with doing so. Because our suppliers are excellent at what they do, their time like everyone else's is valuable and they are always in high demand so if your budget is not a concern then there is this option
"How long does the process take?"
This will depend on how prepared you are. For those who have done their homework, sourced an acceptable design or image can be enjoying their new custom made digital printed splashback in a little over 2 weeks.
If you are well prepared, have clear instructions and material for our suppliers the price associated is relatively comparable and cost effective. The quality is exceptional and we have not had a single disappointed customer yet.