Our Range of Shower Screens at Harbour Glass
Unless by special design request, Harbour Glass offers 3 main styles of shower screens. Starting at the budget end is our FULL FRAMED. Just because this is our most affordable option, it doesn't necessary translate in to a lower quality product, in fact the full frame range is our most robust application perfect for young children who tend to be a little on the rough side. The full frame range can take a door slam any day of the week. Take a look at our FULL FRAME RANGE HERE.
All of our framed and semi frameless ranges are available in a choice of different finishes such as….
If your after something that is a little more modern and stylish but still needing to keep an eye on the build or reno budget, the SEMI FRAMELESS options will certainly be for you.  Otherwise known as a perimeter screen, the outside perimeter uses a slimline aluminium profile that holds everything firm but all the glass to glass joins are frameless giving that upmarket appeal. The semi frameless range is one of our most popular range and to read more CLICK HERE.
Of course this leaves our most indulgent and gorgeous application being the FRAMELESS range. Often refer to at Harbour Glass as the "Rolls Royce model" of shower screens, our 10mm thick tempered frameless range is completely self supporting and uses clever glass to glass support features as well as a number of other practical designs to maintain its strength and elegances. Images and details on our frameless range can be FOUND HERE.
For ease of navigation and website searching, we have separated the 3 different styles in to their own sections complete with information and example images of recent jobs that have been supplied and installed by Harbour Glass. Every bathroom is different and if you are wanting to browse the 100's and 100's of photos, then our photo albums on our Facebook page is still the best resource for doing so.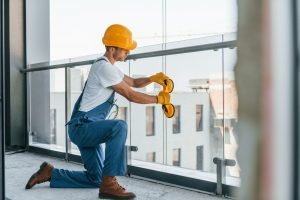 These days our intake is very limited, spanning out to 4 years sometimes. There is currently an opportunity available. Harbour Glass is hiring.
Read More »