An institution though innovative ideas and creativity 
A vision to build a well renowned, locally owned glazing company with superior expertise in architectural kiln formed glass was first conceived over 15 years ago. Harbour Glass now specialises in frameless glass applications and has established themselves as a leader in their field.
"We are not a general glass or glazing company. Residential windows or re-glazing is not our normal scope of work. We specialise in architectural glazing such as glass splashbacks, frameless shower screens, glass balustrades, glass pool fencing and antique mirrors. Through innovation and continued development we are able to provide products and services that some other glaziers can not."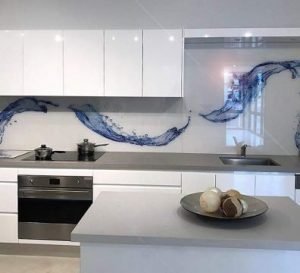 Such innovation has seen Harbour Glass introduce what was the first and largest glass processing CNC between the Gold Coast and Newcastle. Its this forward thinking that most customers see as refreshing.
Harbour Glass utilise a Resene paint bank to back all of their own splashbacks and are not limited to the Resene brand. All colours from Dulux, British Paints, Wattle are just a few of the many colour selections available. If one of the 40,000+ colours from the 2k paint bank is not your style think bigger with a digital printed splashback landscape or that favorite high resolution photo.
The clever use of technology not normally found within the glass industry is what sets Harbour Glass apart from their competitors. The implementation and multifaceted use of a 130w Co2 Laser enables the team at Harbour Glass to create endless possibilities in many of their glass products. Engraved mirrors, shower screens or custom a logo in your business sign are but just a few of the exclusive services on offer.
Very Happy!
I'm so happy with the work that has been done by Harbour Glass, I had set ideas on what I wanted but I was blown away with their new and fresh ideas that worked seamlessly with my design and were miles out in front of the current trend. I have no hesitation in recommending Harbour Glass to anyone who is fussy about what they want. I will now only use Harbour Glass for all of my commercial work as well. Thank you so much!
North Boambee Valley NSW 2450
Outstanding Customer Service and Competitive Pricing
Harbour Glass provide outstanding customer service and competitive pricing for a great quality product. Would not hesitate to recommend and would definitely use again in the future if needed
Amazing
A few months ago I had my balustrades done by Harbour Glass and it is amazing. I absolutely love it. I have no complaints in regards to workmanship, quality or service provided by Harbour Glass. Thank you again. I have already recommended you to a few of our friends who have complimented us on our balustrades.
Highly recommended.
Highly recommended. Outstanding customer service. Really listened to what I wanted and made it happen. Loved the attention to detail and personal service I received. The splashbacks are amazing! This happy satisfied customer will definitely be back again.