An institution though innovative ideas and creativity 
A vision to build a well renowned, locally owned glazing company with superior expertise in architectural kiln formed glass was first conceived over 15 years ago. Harbour Glass now specialises in frameless glass applications and has established themselves as a leader in their field.
"We are not a general glass or glazing company. Residential windows or re-glazing is not our normal scope of work. We specialise in architectural glazing such as glass splashbacks, frameless shower screens, glass balustrades, glass pool fencing and antique mirrors. Through innovation and continued development we are able to provide products and services that some other glaziers can not."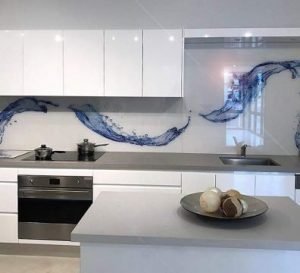 Such innovation has seen Harbour Glass introduce what was the first and largest glass processing CNC between the Gold Coast and Newcastle. Its this forward thinking that most customers see as refreshing.
Harbour Glass utilise not only a Resene paint bank to back all of their own splashbacks but recently commissioned a second paint bank from Evic to ensure no limitations or restrictions to any one brand or colours. The branded eco-systems such Dulux, British Paints, Wattyl are just a few of the many colour selections available as well as Harbour Glass's own custom range of effects . If one of the 40,000+ colours from the 2k paint banks is not your style think bigger with a digital printed splashback landscape or that favourite high resolution photo.
The clever use of technology not normally found within the glass industry is what sets Harbour Glass apart from their competitors. The implementation and multifaceted use of a 130w Co2 Laser enables the team at Harbour Glass to create endless possibilities in many of their glass products. Engraved mirrors, shower screens or customise a logo in your business sign are but just a few of the exclusive services on offer.
From the big jobs to the little jobs.
Find out why so many people trust us time and time again
Locally owned, locally operated, 100% Australian
Our
Amazing & Skilled
Trade Customers