Full Framed Shower Screens
Our Full Framed application is a must for most, despite this style forming the entry level  "budget conscious" price range, it offers the most robust design providing protection to each individual panel edge. This application is perfect for young children as it can take the occasional door slam or accidental bump without too much damage caused. The closing point has a full length magnetic strip that ensures a firm tight seal that prevents any leakage and a clever designed gutter at the bottom of the door ensures any water running down the door wall when it is opened stays inside the shower recess.
We utilise a 6.38mm laminate clear safety glass as standard but any 6.38mm laminate glass (such as tinted, translucent, etc) can be used in this system* The full framed application only has 1 moving part which is the door, we use a top and bottom pivot system which can assist in those tight spaces and reduces wear and frame stress like some side hinged systems do. Each shower screen is custom made so door positioning is adaptable and flexible. Our full framed range comes in a variety of different frame colours ranging from alpine white, bright silver (chrome) semi-gloss black and matte silver. In fact, we can offer any colour from the Dulux powder coat range*.
The turnaround time/manufacturing process will take about 2 weeks. *please note* Optional extras may add additional time to the manufacturing process and incur additional cost. We no longer offer the 3-panel sliding door system in the full framed range due to the excess moving parts and short life span of perishable components, if you require a sliding shower application see the semi frameless range for more details to our latest design to suit spaces with limited room.
To obtain a quote on our framed shower range, simply fill out the form below. Its that simple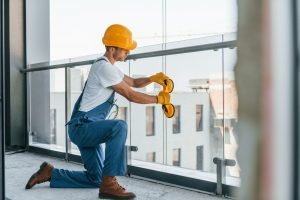 These days our intake is very limited, spanning out to 4 years sometimes. There is currently an opportunity available. Harbour Glass is hiring.
Read More »