Our
Amazing & Modern
Semi Frameless Shower Designs
The semi frameless range is arguable one of the most popular choices for many due to its modern and contemporary look and "middle of the range" pricing. For this application we utilise a 6mm Clear toughened safety glass as standard but any 6mm toughened glass may be used in this style of application. The term "semi frameless" or sometimes referred to as perimeter shower gets it name from exactly that. The external perimeter of the shower is formed by an aluminium profile and vertical wall channels leaving a frameless glass to glass join around the joining panels to the door. This application offers a top and bottom door pivot or a single sliding panel for those space restricted areas.  
Come visit us in our showroom today, we have some of our products on display. Get the right advice from the start which may save you money later down the track. 
With the exception of the slider, the semi frameless range needs a 3mm gap between glass to glass joins (If the glass impacts, it may break) therefore, a small amount of water may at times escape through the 3mm gap. If this worries you, then perhaps this application is not for you. We do have the option to place plastic seal strips up the edge of each glass, but over a period of time, this will deteriorate and is a great place to harbor mould and soap scum build up. If you would like to know more about any of our shower screen ranges, call in to our showroom, on Industrial Drive, North Boambee Valley. 
To obtain a quote on our Semi framed shower range, simply fill out the form below. Its that simple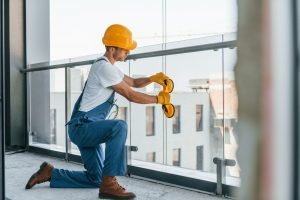 These days our intake is very limited, spanning out to 4 years sometimes. There is currently an opportunity available. Harbour Glass is hiring.
Read More »